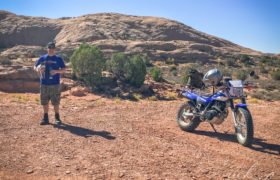 I recently installed the AMP plugin for WordPress and am starting to see these AMP'd posts showing in my stats. This thing works! Quick as this super fast dirtbike!
Google announced this year that they are showing (and giving weight to?) AMP pages. Now is a great time to get ahead of the curve and here's how to do it.
Wait, what's AMP?
AMP is a way to reformat web pages in a way that they are very fast to load … because web designers don't do a good enough job with CSS and responsive stylesheets, I guess. In a nutshell, it's just another thing to deal with. Will it catch on? I don't know. Try it, and maybe you'll be ahead of the curve.
Customizing the Code
Now that you've installed the plugin, you'll notice that it doesn't really match your site. Here's a quick bit of code that can help do the basics for you!
Development Ideas